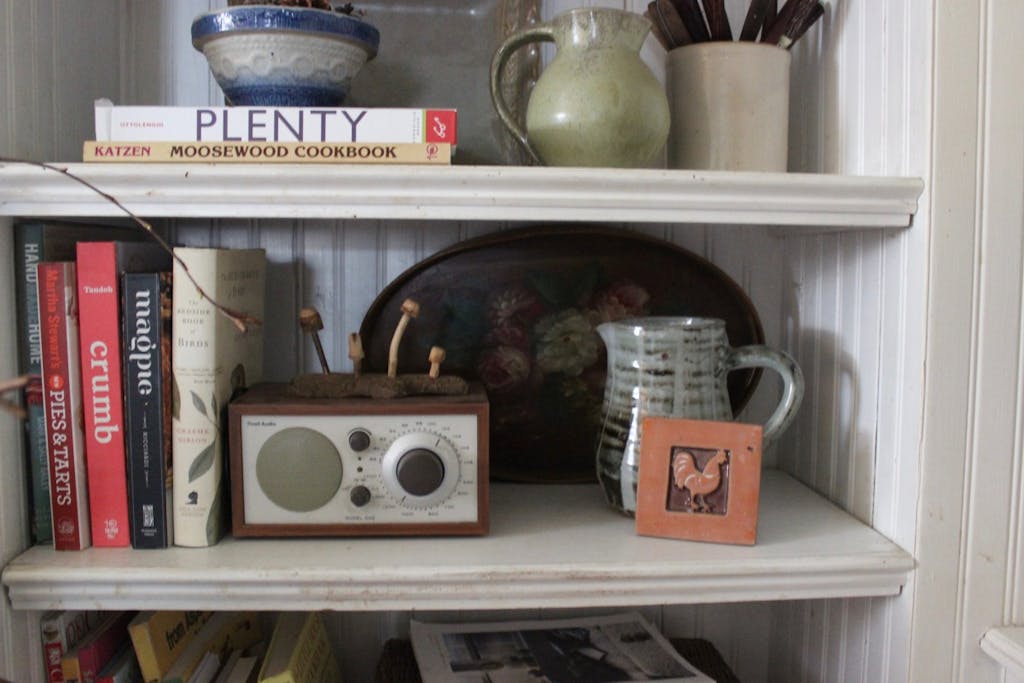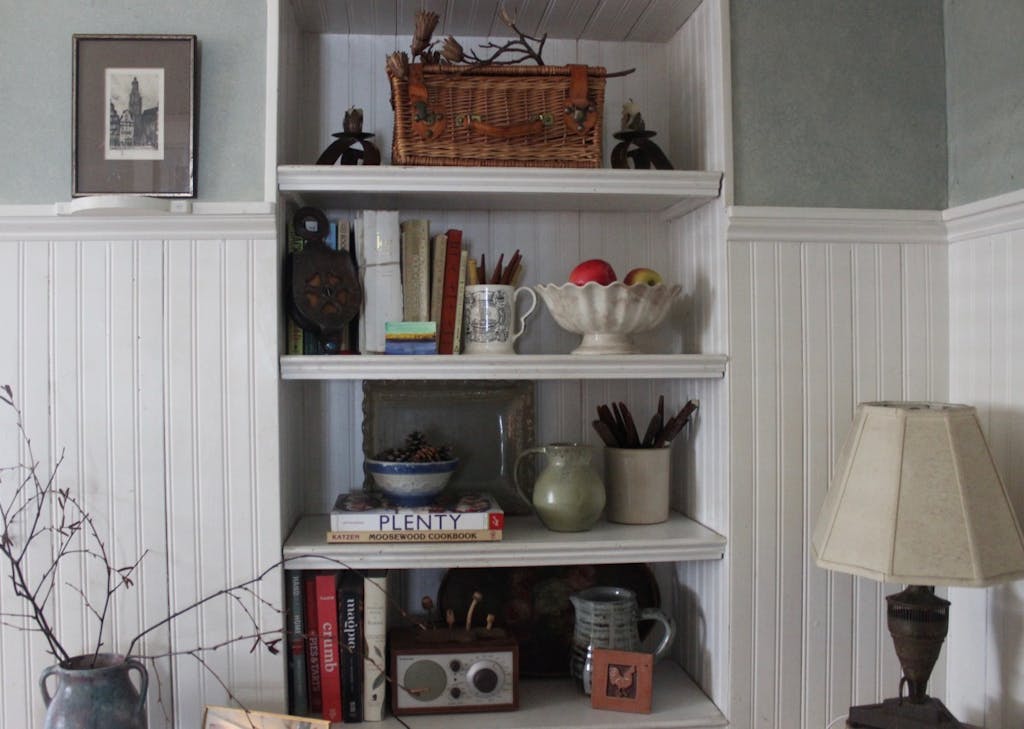 A bookshelf is the ideal venue for a vignette .  Each shelf acts as a little stage for props to be set up and designed on creating that perfect scene. It's almost as if a little performance is about to begin at any moment!
This built-in lives in my kitchen and holds a variety of things, many of which get used daily. When creating your own vignettes I urge you not to shy away from things that get utilized on a regular basis. Little clusters or groupings of objects that are both beautiful and useful can make a room feel inviting and give purpose. Just grab what you need and after you are finished back into the vignette it goes!
The top shelf holds a basket of linen napkins that get used on special occasions. On each side of the basket sit an antique copper candlestick that gets used on my dining room table when we are seating a larger group and the leaf needs to be put in. A Tulip Poplar branch found on a hike sits on top of the basket.
The second shelf holds an array of well loved cookbooks. My Joy of Cooking, gifted to me by Chris on our first Christmas together as a married couple, is so ell loved it is held together by a rubber band. It's my go to for baking. An antique English Adams farmer mug holding a cluster of wood handled steak knives acts as a book end. A white scalloped pedestal bowl holds apples. Leaning up against the books is an antique hay barn pulley  and a little watercolor I painted.
On the third shelf sit more cook books, pottery and utensils. A ceramic serving tray acts as a backdrop.
The fourth shelf on the bottom holds even more cookbooks, a Tiviola radio, and a pottery pitcher and chicken tile. On top of the radio sits a hand carved grouping of mushrooms made by a woodcarver friend. A wooden hand painted, floral serving tray leans behind.
As I have mentioned before vignettes are not meant to be permanent. These shelves are in constant flux. As the seasons change along with my mood so do the vignettes that live here.
I'd love to hear from you my friends. Let me know if you are enjoying this series and what other types of series  you might like to see!