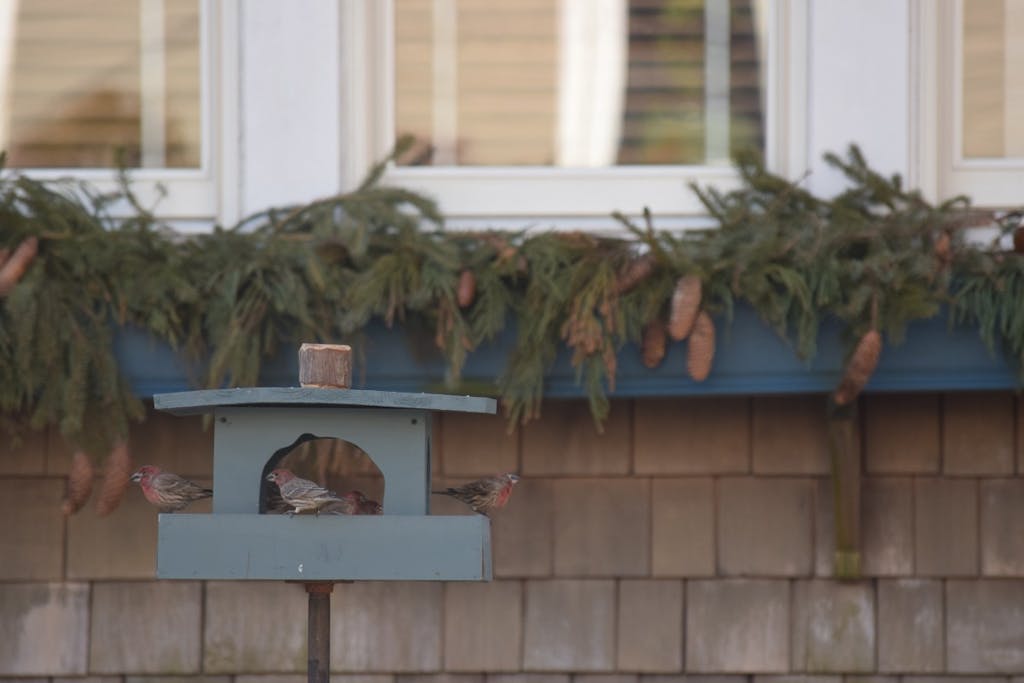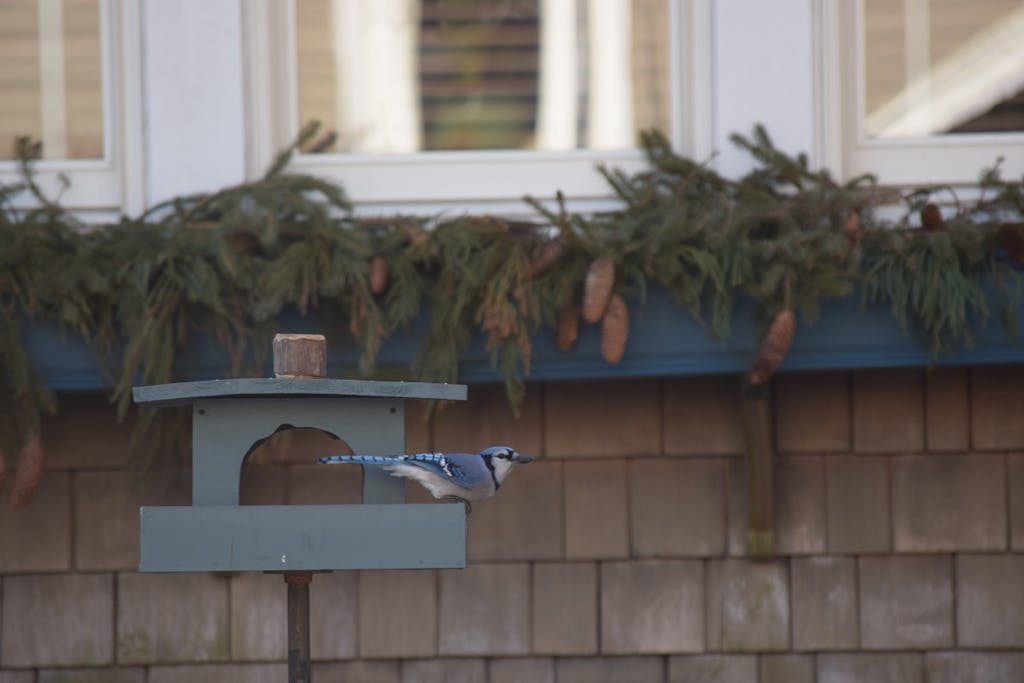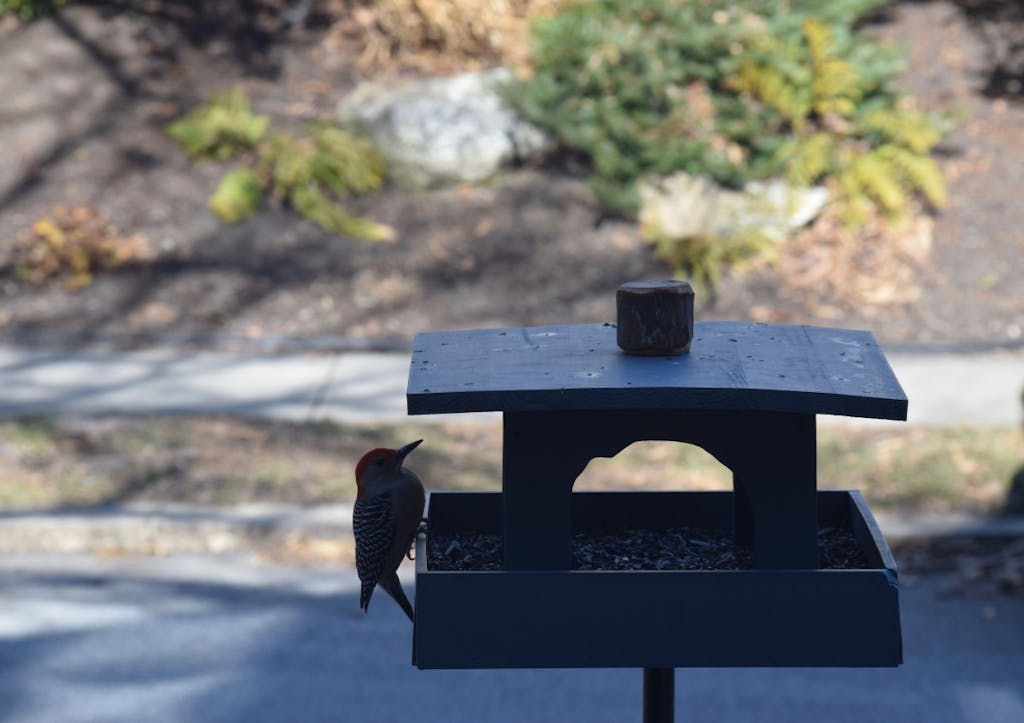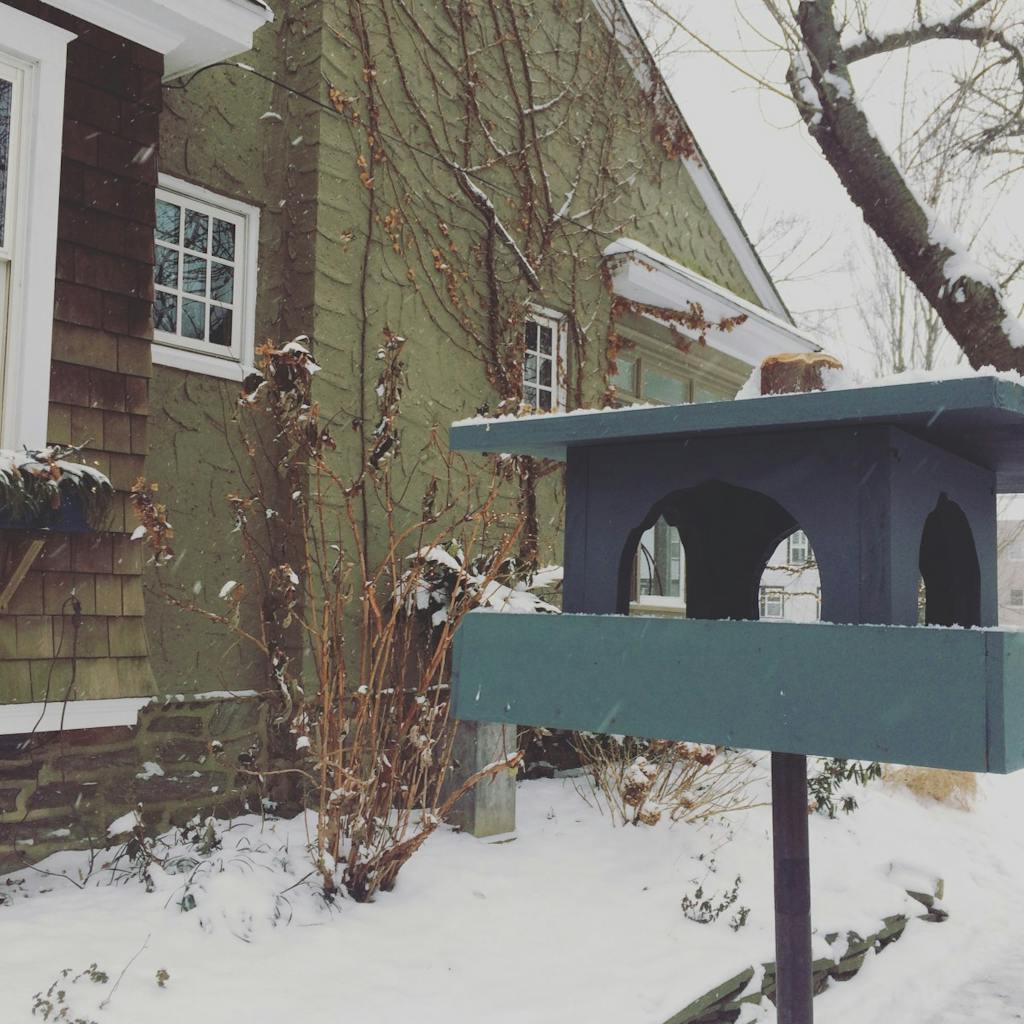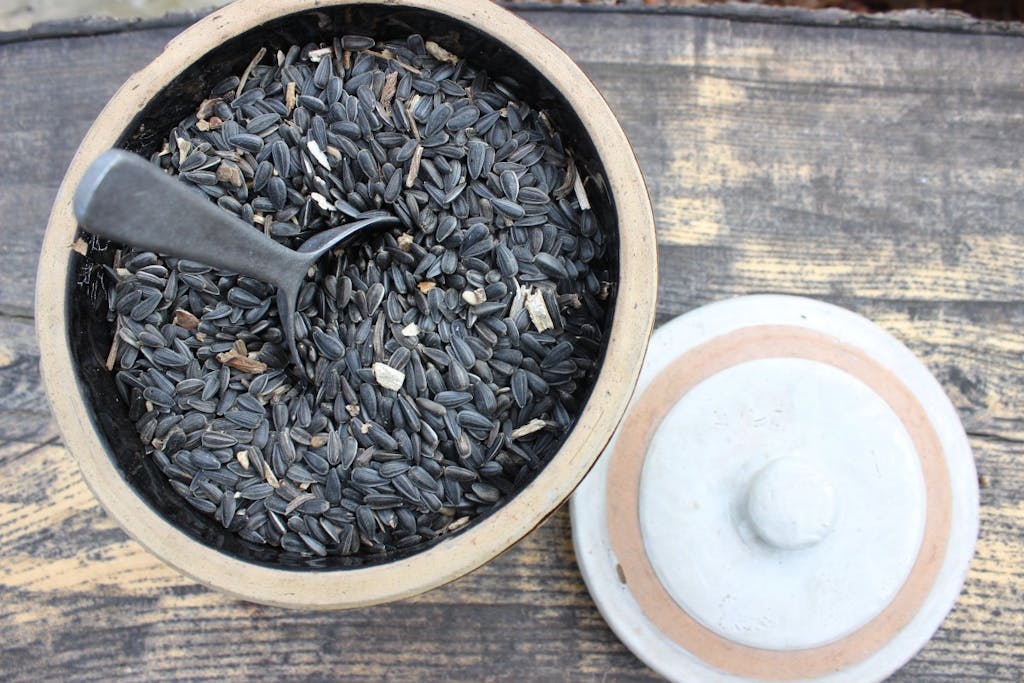 After much hinting around about how I longed for a bird feeder to live outside our dining room window, Norah made me this beautiful one in wood shop class. We installed it in the fall,  used a millet seed mix and sat back and watched. Weeks went by but no birds to be found.  I began to get impatient, as I sometimes do, and my family would roll their eyes as I would look out the window each day asking "Birdies where are you?"  I did some research  and decided to switch to black oil sunflower seed. Later that day as I was washing dishes I squealed out loud with delight as I spotted a Tufted Titmouse from the kitchen window. I even called Chris at work to tell him. After that our feeder has seen a flurry of daily activity.
I love the design which has proved to be quite a hit with an amazing array of birds and it's squirrel proof too! Norah made a beautiful Yew knob that sits atop the roof which lifts up to pour in seed. It has a nice wide lip for bigger birds to perch on while the smaller birds feed inside under the protective roof. I have sometimes seen up to 5 different types of birds feeding at once.  The base seems to be too wide for the squirrels to jump from the pole up to the feeder. I had quite a chuckle one day as I watched one do back flips over and over trying to get up.  I have yet to see another one try. I think Earl must of told them not to waste their time. I told Norah she should patent her  design.
I never dreamed of how much joy this little feeder would bring me. I love how much life it brings to the side of our house. The other day as I was coming home from my morning walk I watched from across the street at a variety of birds on the feeder, on the branches of nearby shrubs, in the flowering cherry tree above and even up in my window boxes. There was a  Downy Woodpecker pecking at the ivy vine growing up our house and squirrels and mourning doves feeding on the ground below the feeder. I am having to fill the feeder at least once a day for all of our new little friends! It will be fun to see if we have some volunteer sunflowers come up in the garden from all of the seed.
I have begun to keep a written list of the birds that visit our little Second and Edgemont feeder. So far we have seen House Finch, Blue Jay, Cardinal, Tufted Titmouse, Black Eyed Junco, Chickadee, Carolina Wren, Mourning Dove, Red Bellied Woodpecker, Downy Woodpecker, Yellow Finch, White Breasted Nuthatch, Purple Finch and White Throated Sparrow.
We are keeping an eye out and our fingers crossed for Oriole, Evening Grosbeak, Scarlet Tanager and Cedar Waxwing.
What birds  come to visit your feeder? Any tips on bird seed?