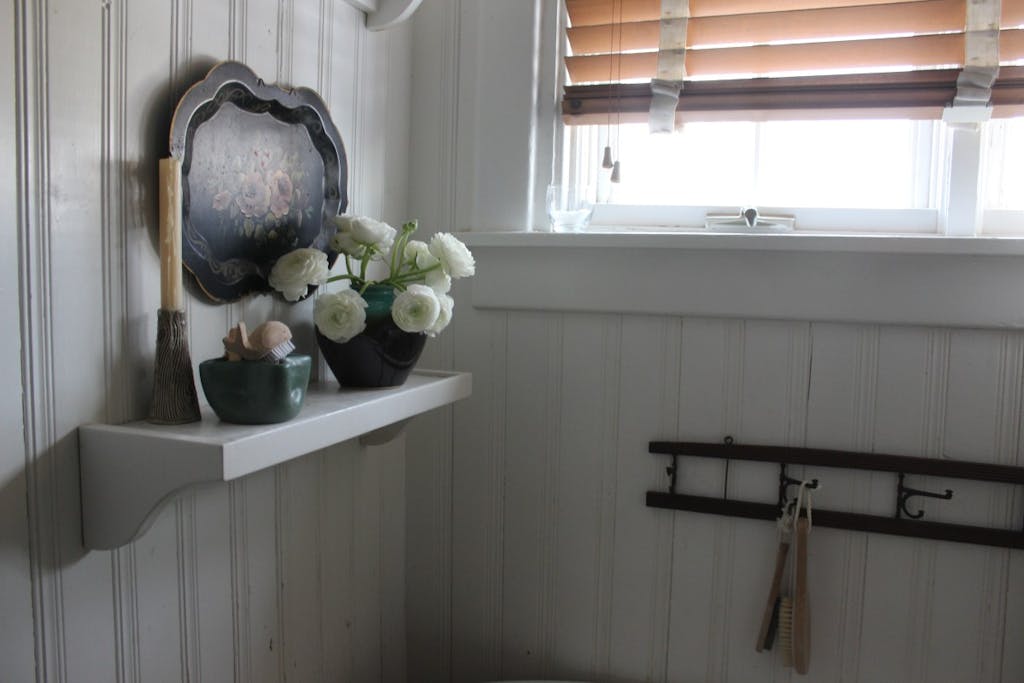 Hello friends,
I am excited to announce that I will be sharing a weekly vignette series here in this space where I will post a photograph of my favorite vignette created in my home or out in the garden.  These little creations bring me much joy. They are sometimes inspired by the seasons and often times are created without my help at all.
I thought for my first post of this series I would also include some tips on how to create your own vignettes.  So let's get started!
Vi·gnette
[vinˈyet]
Any small pleasing or endearing scene, view or picture.
Vignettes create a sense of order and calmness to any room and bring beauty and originality to the home.  I love to create these little still lifes. Sometimes they may reflect the seasons, sometimes they show off my favorite things. And most times they tell a story. Vignettes come in all shapes and sizes. They can reflect the past and present all at the same time. Vignettes can be moody but are always open to change.  Each one has it's very own personality.
Choose a space
Find the perfect stage to tell your story. Designate a few spaces throughout your home that will remain free of clutter. Mantles, bookshelves, nightstands, a bureau, a window ledge are all great places to start. Vignettes can be placed in plain view for all to see or tucked away in forgotten corners. Happening upon a beautiful arrangement when least expected is a pleasant surprise. But beware, vignette making can become quite addictive. I have vignettes in my pantry and even inside the medicine cabinet!
Gather
Experiment with what you have.  Vignettes are an affordable way to change the look and feel of your home. No need to go out and buy new things, chances are you have plenty of items lying about. Shop around your home and choose things that bring you joy, have sentimental meaning or are just plain pretty. Things you might find in my typical vignette are pottery, nature finds, candles, plants, photographs, a vase of flowers, books.
Arrange and Create
A vignette could be a cluster of all of the same sort of thing or a grouping of different objects. Choose an anchor. This piece will stand out the most and be what draws you in at first. It typically will be the largest piece in the arrangement like a lamp, a piece of pottery, mirror, painting or plant. Let this object set the tone. Instead of arranging items in a straight line, create depth by using items with varying heights, shapes and textures and most importantly arrange in odd numbers. Don't be afraid to create vignettes with things that get used on a regular basis. Little clusters or groupings of objects that are both beautiful and useful can make a room feel inviting. I have many vignettes throughout my kitchen created with tools and pottery that get used almost daily.  After they have been washed and dried, back into the vignette they go! Tell a story. Create little scenes that spark a good feeling or remind you of pleasant memories-  something from your childhood, a heirloom passed down, a piece of nature found on a walk.  Chances are each time you look at these things arranged ever so carefully on a shelf, they will ignite joy, peace and comfort.
Admire and Allow for Change
Sit back and admire your creation. Allow yourself to edit a bit. Vignettes are not meant to be permanent. They can be changed, added to and rearranged whenever the mood strikes.
In the photo above taken in my bathroom of a shelf above our claw foot tub I pair an antique pottery vase full of fresh Ranunculus with a candlestick and piece of pinched pottery  full of wooden brushes.  Hanging behind the little scene is an antique hand painted Tole tray. Fresh flowers and plants in any room add life. The tall candlestick gives height and dimension and I prefer candlelight when taking a bath don't you?  The pottery full of brushes is both beautiful and useful as we use those brushes when bathing. The tray gives depth and a pop of color.   Even bathrooms deserve vignettes.  It's a room we all use quite often. I want to enjoy the scenery when I am there.