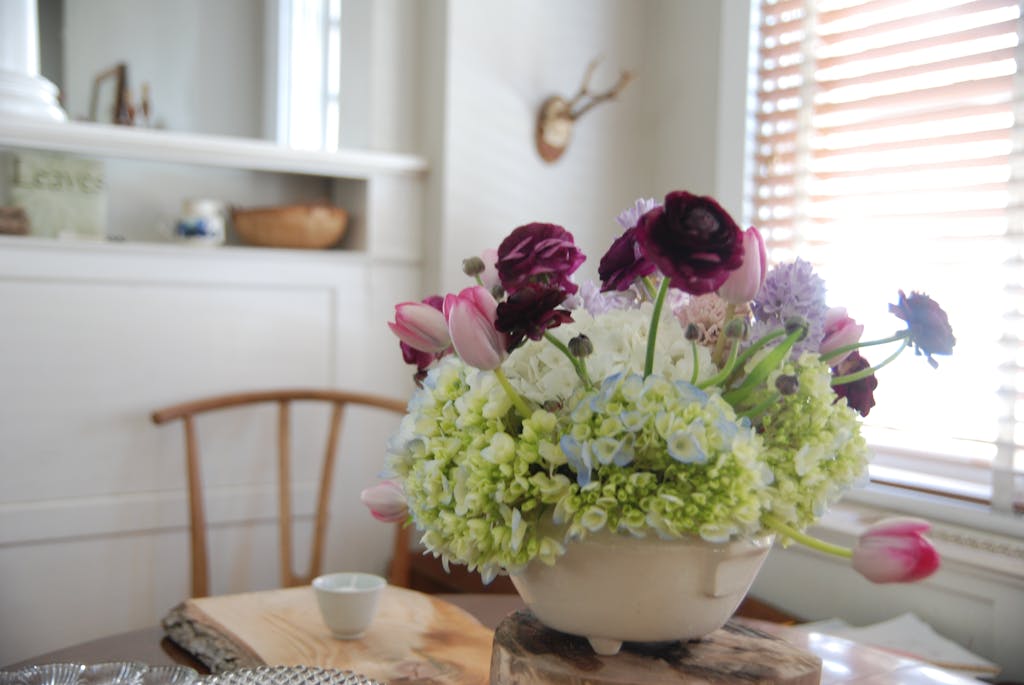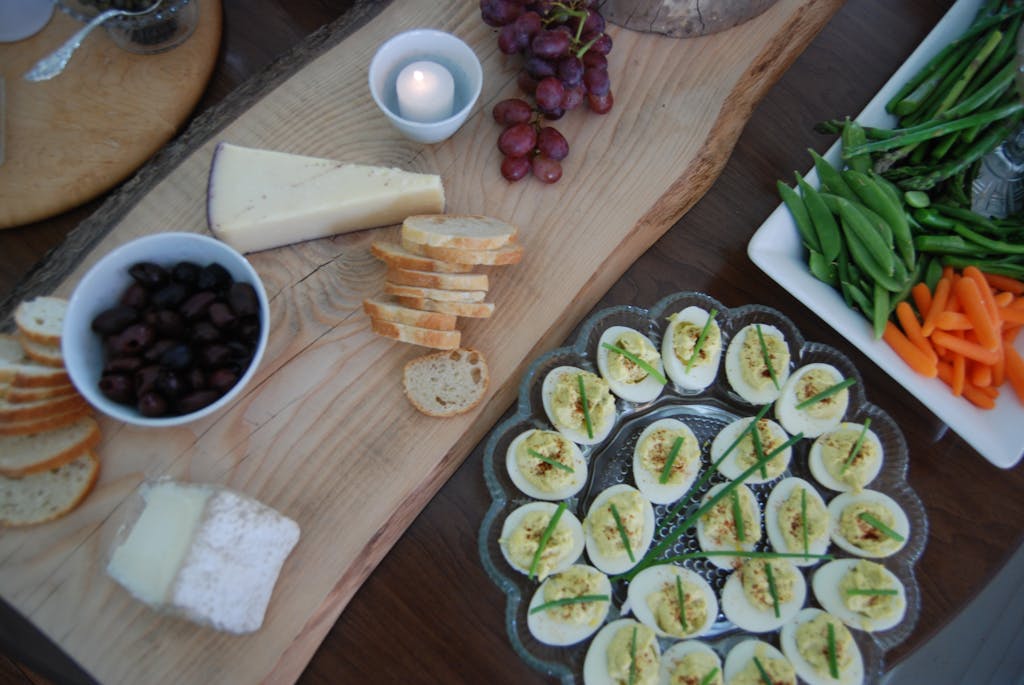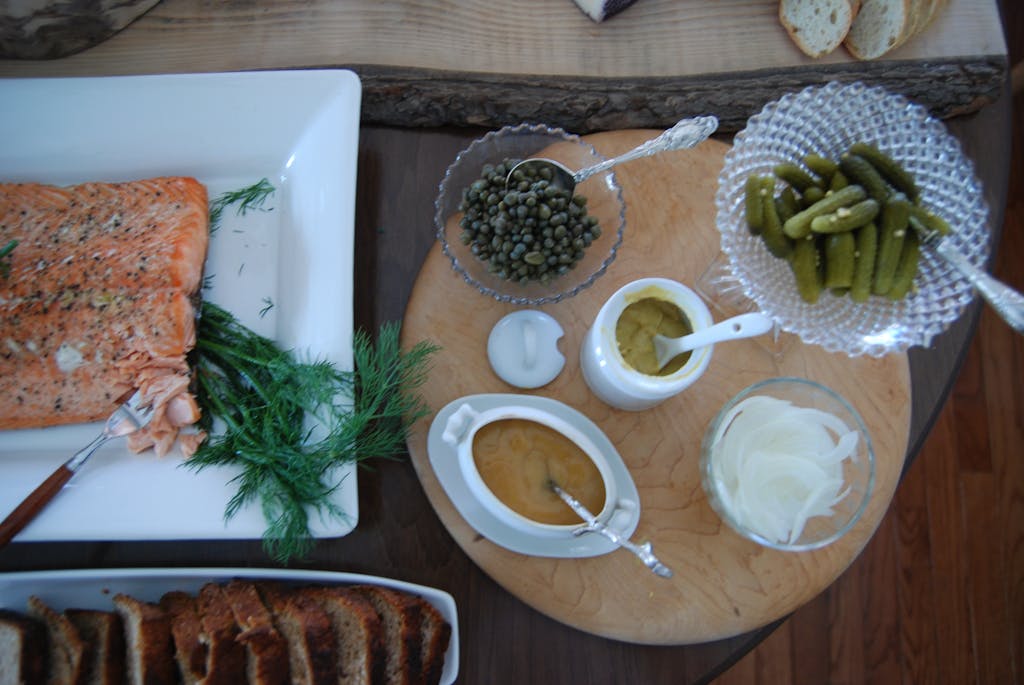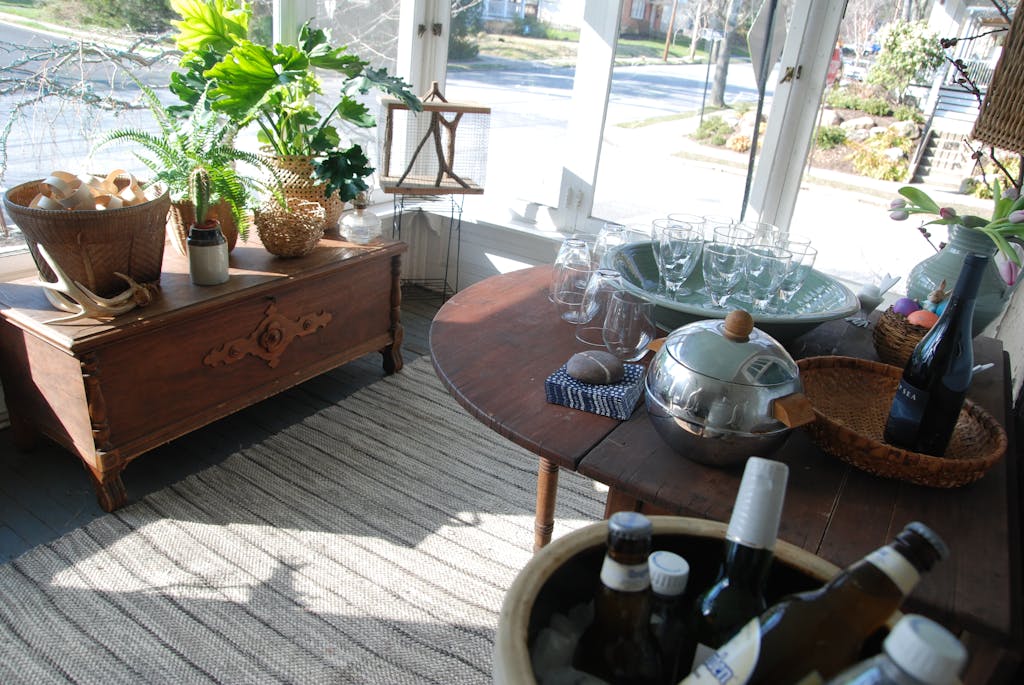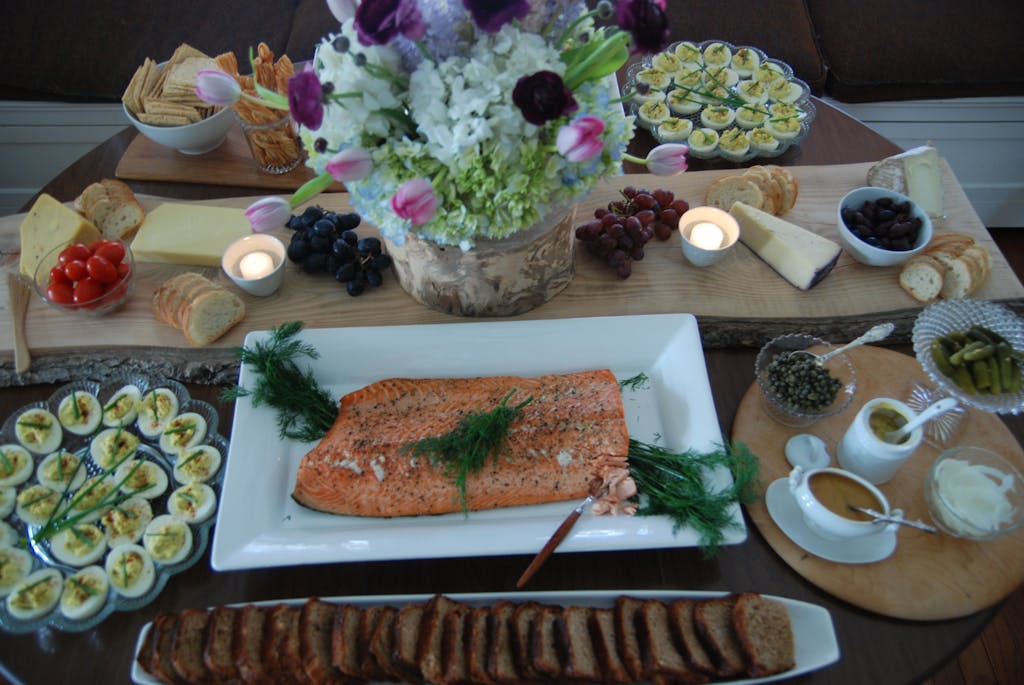 i live in such a fun neighborhood.
we are always throwing a party!
i feel so lucky to have such a close knit community within my neighborhood and that we all love tradition.
we get together regularly for all different occasions and we always have so much fun!
this past saturday was our annual progressive dinner. it's usually held late winter, early spring and i was delighted that it fell on a beautiful warm and sunny evening. for those of you who are wondering what a progressive dinner is, it is basically a party where each successive course is prepared and eaten at the home of a different host.
i hosted hors d'oeuvres this year. i wanted to focus on the arrival of warmer and longer days and chose spring inspired fare.
the menu included horseradishy deviled eggs and salmon with brown bread and condiments such as capers onions, mini gherkin pickles and different types of sweet and spicy mustards. there was white bean dip with sugar snap peas, carrots, asparagus and baby broccoli and several different cheeses served on a long cheese board that i had made just the day before. because it was such a warm day i was able to open up the front porch to serve drinks. i used spring flowers such as hyacinth, ranunculus and tulips to make an arrangement for the table. i unearthed my antique china adorned with polka dots and green trees and it was time to celebrate!
i highly recommend this type of party. they really are so much fun (i had so much fun that i didn't even pick up my camera to photograph any of the guests!) and the list of possibilities are endless.
i thought it might be fun to offer a little how-to guide on organizing one.
here are a few suggestions….

hosting a progressive dinner
::progressive dinners are not just meant to be hosted within a neighborhood. plan one with friends, co-workers or family. but be sure to keep in mind the travel time between each course to make the night more enjoyable. being able to walk from course to course is the most convenient!
::progressive dinners can be simple or as elaborate as you wish. our neighborhood one involves just appetizers, a main course and dessert. but you could involve more homes with more courses such as soup and salad, or after dinner drinks and dancing. we keep the menus and decor simple but my mother's neighborhood hosts progressive dinners with themes that involve culturally inspired foods, decorations and sometimes even costume!!
::make sure to involve the whole gang. ask others to contribute to the different courses. you can even be particular and let them know exactly what you need. for example, bread, a green salad, a grain dish etc.
:: make it BYOB! it will help with the budget of those who are hosting the different courses who always seem to take on the brunt of the bill.
:: progressive dinners can happen at any time of the year. we like to pick a time when not much is going on in the neighborhood and when the winter months have kept us all inside from seeing one another. but a summertime one would be fun to host outdoors too!
::progressive dinners are a fun way to meet new people. invite a neighbor who has just moved in or a co-worker who you just haven't had the time to get to know.
:: don't stress! there are no particular rules to this. make it your own and have fun!